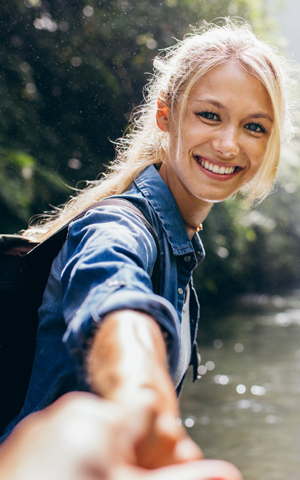 If you are looking to fix the way your smile looks, you want a cosmetic dentist. Cosmetic dentistry focuses mainly on the appearance of your teeth, although it does often go hand-in-hand with restorative dentistry. If you have received a restoration, you may want a cosmetic dentist to touch up your teeth's appearance.
Cosmetic Dentistry Services
Invisalign® Clear Braces – Invisalign is a wonderful alternative to traditional braces. They discreetly straighten your teeth and re-align your bite, and are removable for meals and brushing.
Veneers – If you have crooked teeth, but don't want to re-align your bite, veneers may be a great option! Veneers are also used to make your teeth look whiter, or to change the length and shape of your tooth. Have a gap in your smile? Veneers may fix that!
Crowns – If you have a crack or break in your tooth, or if you have had restorative dental work done, the best step may be a crown. A crown is a tooth-shaped cap that goes over your tooth and helps you chew without discomfort. A crown can also support dental work, such as bridges, and if made from porcelain, may blend in with the rest of your natural teeth.
Tooth-Colored Fillings – Fillings "fill in" a cavity and help protect the tooth. It comes in many different materials, but tooth-colored fillings are, by far, the most discreet.
Whitening – Age, medication, and what we eat/drink can all affect the color of our teeth. Teeth whitening can help your teeth look brighter, your smile look healthier, and you look younger! Additionally, whitening allows you to achieve your ideal shade.
Is Cosmetic Dentistry For You?
If you are looking to improve your smile, chances are your cosmetic dentist can help. At Ponderosa Dental Group, we know that how your teeth look can have a big impact on how you feel about yourself. We want to help give you that smile you have been dreaming of, so don't wait another minute. Call for your appointment today!