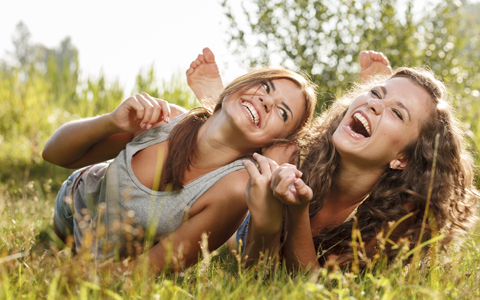 Are you ready for a straight, beautiful smile? Do you worry about how aligners will look? Great news! Invisalign® Clear Braces are a great, discreet way to straighten your teeth and give you that beautiful smile you have always wanted. Invisalign Clear Braces are custom-made, removable, clear plastic aligners that you replace every week until treatment is complete.
What Is Invisalign?
Invisalign is a clear plastic aligner used as an orthodontic device to straighten your teeth, giving you a smile you'll be proud to show off. Plus, Invisalign is clear, so others may not ever notice you're wearing it! But are you still curious about Invisalign? Here are a few questions we typically get about Invisalign aligners and treatments.
How does Invisalign work?
Wearing your Invisalign clear aligner encourages your teeth to shift over time without the need for wires, brackets, and rubber bands. At your consultation, we'll capture digital photos & a digital scan of your teeth to create a customized treatment plan just for you.
Your digital images will be sent to a lab, where your custom Invisalign plan will be created using the latest software. Once your plan is ready, your Invisalign aligners will be mailed to our office. We will place your Invisalign aligners on your teeth to ensure they are a proper fit.
From there, you simply wear your custom Invisalign aligners every day! At home, you will switch to a new set of aligners every week. Typically, we'll schedule routine check up appointments every 6 weeks to ensure your aligners continue to fit properly.
How long does Invisalign take?
Since everyone's smile is different, Invisalign results can vary. Typically, Invisalign can take anywhere from 6 months to a year or longer, though you may begin to see results in as short as a few weeks! For best results, follow your Invisalign doctor's recommendations for how long you should wear your aligner.
Does Invisalign hurt?
When it comes to repositioning your teeth, some mild discomfort can occur. However, Invisalign is known to cause less discomfort than traditional braces by applying gentle yet powerful force on your teeth. Additionally, Invisalign saves your mouth from the poking and prodding of traditional metal braces.
Does insurance cover Invisalign?
Dental insurance plans vary, but many cover Invisalign the same way they cover traditional braces. It's best to check with your personal insurance provider to discuss what costs your dental plan covers.
INVISALIGN VS. BRACES
Are you trying to decide between Invisalign and traditional braces? There are a few key things to consider.
Construction
Like traditional braces, Invisalign can help correct misaligned teeth by shifting them into the right places. But unlike traditional braces, Invisalign doesn't require metal wires and rubber bands to straighten your teeth. And no metal means no poking the inside of your mouth!
Maintenance
Braces usually require check ups every 4 to 8 weeks for tightening or wire replacement. With Invisalign, a quick checkup every 6 weeks or so is usually enough to keep you on track to a straighter smile!
Cost
When it comes to cost, Invisalign & braces tend to be very comparable. We are proud to offer very easy financing with low monthly payments to make your treatment affordable! Schedule your Invisalign consultation at Ponderosa Dental Group to discuss payment options and insurance coverage.
WHY SHOULD I USE INVISALIGN?
Are you still unsure about Invisalign? Here are some more benefits you can expect with Invisalign® Clear Braces:
Discreet – When worn, Invisalign Clear Braces are hard to see. Unlike bulky traditional braces, many may not even notice you are wearing them.
Treatment Time – When used properly, an Invisalign treatment can be shorter than a traditional braces treatment. In general, it takes 1 – 1.5 years to straighten your teeth with Invisalign.
Office Visits – Typically, Invisalign requires fewer office visits than traditional braces since Invisalign doesn't require routine tightening.
Convenient – You do not have to worry about cleaning around brackets and wires. You can simply remove Invisalign for your daily brushing and flossing. You also remove your aligners when it is time to eat.
Comfortable – There are no brackets or wires to rub against the inside of your lips.
Food Restrictions – There are none! Without the fuss of permanent metal wires and brackets, there's no need to worry about what you eat or food getting stuck in your braces.
WHAT TYPES OF ISSUES DOES INVISALIGN FIX?
Invisalign is a great alternative to braces for many different kinds of smiles — from minor dental cases like crooked teeth to more serious issues involving dental malocclusion. Invisalign can help fix:
Overbites
Underbites
Open Bites
Crossbites
Crowded Teeth
Gapped Teeth
HOW DO I GET INVISALIGN?
The first step is to come in for a consultation. We may take X-rays during this visit, to get a clear picture of your diagnosis. If we decide together that Invisalign is for you, we will take a series of digital images. These images will be used to create your custom aligners. You will receive new aligners every week.
Important: For best results, wear your aligners at least 22 hours a day. Consistently wearing your aligners will help to keep your treatment on target.
GET THE STRAIGHT SMILE OF YOUR DREAMS!
At Ponderosa Dental Group, we know the value of good aligners. We want to achieve your dream smile with you! Take the first step toward getting a smile you're proud to share. Sign up for a virtual appointment today via the Smile Virtual app to ask us about Invisalign treatment options and let's talk about transforming your smile with help from Missoula's best dentist, Dr. Dan.