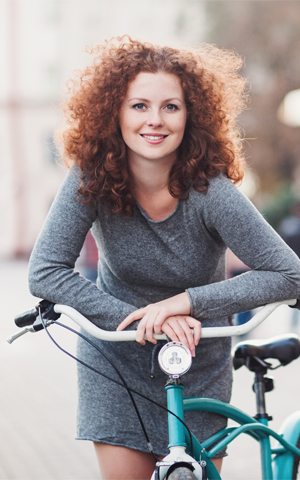 Do you dream of achieving a beautiful smile? You should consider the benefits of veneers! Dental veneers are small shells that bond to the front of your teeth to change the shape, color, and length of each tooth in your smile.
WHAT ARE VENEERS?
Dental veneers are very thin, custom-made coverings that attach to the surface of your teeth to improve the overall look and feel of your smile. Veneers are one of the fastest ways to enhance your smile without invasive dental treatments as they adhere to your natural teeth. They can be made from composite resin or porcelain, and are often described as "wafer-thin." Each veneer material has its benefits. Dr. Dan will help you choose the best material for your needs.
WHAT DO VENEERS FIX?
Veneers change how you feel about your smile. If you don't like something, there's a good chance veneers can fix it! Whether you have a small chip, one discolored tooth, a minor misalignment — veneers can correct many cosmetic dental issues.
Plus, veneers aren't an all or nothing solution. You can have a veneer put on one tooth, say because you fell as a kid and now one tooth has a gray tint to it, or you can have an entire set of veneers. From the color to the shape, veneers are customized to give you a smile you can't wait to share.
Why do people get veneers? To help correct or hide:
Yellow, Stained or Discolored Teeth
Cracked, Crooked or Chipped Teeth
Gaps or Uneven Spaces Between Some Teeth
Worn Teeth
Uneven Teeth
5 BENEFITS OF VENEERS
Natural Looking – Porcelain veneers have the same reflectivity of your natural teeth and can match the shade of your existing teeth. Dr. Dan and his team will work with you to select the best veneer shade for your skin tone and current teeth.
Cost-Effective – They are a cost-effective alternative to more extensive dental work, such as dental crowns.
Easy to Maintain – Practice healthy oral hygiene! Good oral health means brushing twice a day, flossing after every meal, and rinsing with or antiseptic mouthwash. You should also visit your dentist every six months for dental cleanings.
Improve Your Self-Esteem – Your smile often affects how you feel about yourself. Studies show that because smiling releases endorphins, it has the powerful ability to boost your mood and your immune system. A beautiful, bright, and balanced smile can make you feel more confident!
Look Younger – As we age, our teeth become stained and worn down. Veneers can whiten and brighten your teeth, which helps you look younger.
HOW ARE VENEERS INSTALLED?
The dental veneer process is a little different for every patient. The exact timeline depends on the number of veneers, the type of veneers, and the level of preparation needed before the veneers are placed.
You can generally expect the veneer procedure to be completed in two appointments at your Missoula Ponderosa Dental office.
Exam – First, we examine your teeth and gums to make sure you are a good candidate for veneers. You might be a good candidate for veneers if you have good overall oral health, plenty of tooth enamel, and you have relatively minor cosmetic issues you'd like to correct in your smile.
Preparation – If veneers are a good fit for you, we prepare your tooth by removing a layer of enamel, roughly the size of your veneer shell.
Customization – Next, we take impressions of your teeth and gums, which we send to a lab for construction. When the veneers arrive, we place them and check for fit and length. If necessary, we will trim and shape the shell.
Bonding – Finally, we bond the shell to your teeth. Once the bonding is complete, you are good to go!
With your dental veneers in place, it's time to enjoy your smile!
DENTAL VENEER FAQS
How many visits do dental veneers require?
The initial veneer process takes two visits. After that, all you need to do is keep taking care of your teeth! Brush twice a day, floss after every meal, and rinse with an antiseptic mouthwash. You should also visit your dentist every six months for dental cleanings.
What are porcelain veneers?
Porcelain veneers are one type of dental veneer. Veneers can also be made out of composite resin.
How long do veneers last?
With proper care, dental veneers are designed to last a very long time. Porcelain veneers usually last between 10 and 15 years.
How much do veneers cost?
The cost varies depending on the type and number of veneers you get. Dental veneers are considered a cosmetic procedure and are not covered by insurance.
Are veneers worth it?
Yes, veneers are especially worth it for someone who feels self-conscious or wants to change a cosmetic issue with their smile. Veneers are 100% worth it. They have the power to help you feel more confident and happier with your appearance.
A NEW, BEAUTIFUL SMILE!
At Ponderosa Dental Group in Missoula, we believe your smile is essential. With a beautiful, healthy-looking smile, you can improve self-esteem and your general quality of life. See what we can do for you – without leaving your house!
Simply send us photos of your teeth and tell Dr. Dan what you're looking to change. We will send you before and after photos of related work that's been done to show you what's possible, along with a customized video where you can see Dr. Dan's face and get to see him before coming into the office. It's all free! Sign up for a virtual appointment today via the Smile Virtual app and let's talk about getting you dental veneers with Missoula's best dentist, Dr. Dan!