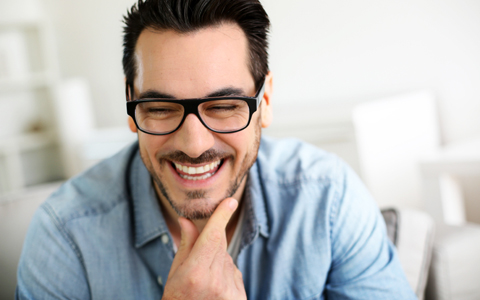 Dental crowns can help save a single tooth or an entire smile. A crown is also called a "cap." It can sit on top of a damaged tooth to protect it or be used to secure other dental appliances like bridges or implants. Dental crowns come in many materials, from metal to beautiful tooth-colored restorations.
Learn more about types of dental crowns, dental crown benefits, the procedure, and typical costs.
Is a Crown Right For You?
You have a cavity that's too big for a filling.
Some of your teeth are severely cracked, worn down, or weak.
You're missing a tooth and need a single tooth implant or dental bridge.
You've just had a root canal — a dental crown can help protect the weakened tooth.
Call Ponderosa Dental for dental crown consultations in Missoula. Online consults are available, and we'd be happy to answer any questions you have about dental crowns.
Types of Dental Crowns
What are dental crowns made of? Dental crowns are commonly made of porcelain because the material is so strong and natural-looking. Crowns can also be made of ceramic, zirconia, metal, composite resin, or a combination of materials.
The material of your crown will depend on a handful of factors. Your dentist will select the best dental crown material based on:
Your allergies (some people are highly allergic to metal)
Your tooth's location (if the tooth is highly visible, you'll want a natural-looking crown that blends in with your smile)
The function of the tooth getting a crown
Your gum tissue and the amount of natural tooth remaining
The color of the surrounding teeth
But there are more differences in dental crowns than the type of material used. Dental crowns can be temporary, one-day, or onlay or ¾ crown.
Temporary Crown – Temporary dental crowns aren't meant to last forever. Instead, your dentist will install a temporary crown that's easy to remove while you're waiting for your permanent crown to be made by a dental lab.
One-Day Crown – Permanent crowns typically take two appointments to complete, but with a one-day crown, you can get a permanent crown in one visit. Same-day crowns aren't available at every dentist's office in Missoula. Ponderosa Dental Group is proud to offer same-day permanent crowns.
Onlay or ¾ Crown – An onlay or ¾ crown only covers part of a tooth.
Dental Crown Benefits
There are many wonderful benefits to getting a crown, such as:
Fully Working Teeth – A crown allows you to chew comfortably, without the worry of further injuring your tooth.
Easy Maintenance – They can be maintained by following good dental hygiene practices: brush twice a day, floss after every meal, use an antiseptic mouthwash, and get regular dental cleanings every six months. These steps can help extend the life of your crown.
Long-Lasting – A crown typically lasts at least ten years. They can last 30+ years with good maintenance.
Natural Appearance – We can match the exact shade of your existing teeth. We use the latest technologies including digital scans and digital photography to give you a beautiful, perfect fit.
Dental Crown Procedure
A dental crown procedure can take one or two office visits depending on your unique situation. However, the process typically follows these steps:
During your first visit, we will prepare your tooth for the crown. Preparing the tooth involves numbing the area, removing decay, and taking out any failing or old dental work from the tooth.
Your tooth is shaped so that a crown can be added on top of it.
We take digital impressions of your tooth and mouth. The impressions are emailed to a dental lab where the permanent crown is made.
You may get a temporary crown depending on how long it takes to make your permanent crown. If so, the temporary crown will be removed before the permanent one is installed.
Once the permanent crown is made, we check for fit and bond it to your existing tooth. If you have an implant, we secure your crown onto the abutment.
After the procedure, your lips and gums may feel numb for a couple of hours. Learn more about dental crown procedures on MedlinePlus.gov and MouthHealthy.org, brought to you by the American Dental Association.
Dental Crown Insurance & Cost
Many insurance policies cover dental crowns, especially when a crown has been deemed medically necessary. Coverage varies from policy to policy. We will happily look at your policy and let you know what is and is not covered.
Your dental crown cost will depend on your insurance coverage. As WebMD reports, dental crowns generally cost anywhere from $800 to $1,700 per crown. If you don't have dental insurance, we offer in-house dental plans. With a Ponderosa Dental Plan, you can get 15% off dental procedures, including all specialty services.
Dental Crowns in Missoula
At Ponderosa Dental Group, we know how important a healthy-looking smile can be. We have years of experience with dental crowns in Missoula, MT. We want to use that experience to give you a smile you can be proud of. Call for your appointment or schedule a video consultation today!