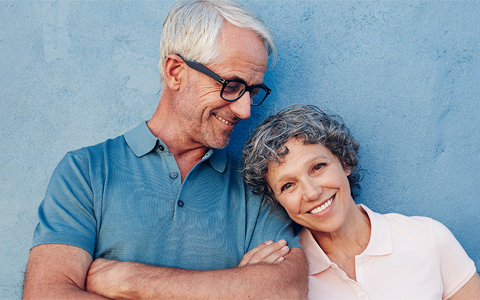 Dentures are prosthetic teeth that restore a smile's functionality after tooth loss.
Types of Dentures
There are two main types of dentures: full and partial.
Full Dentures – You can have upper jaw, lower jaw, or full mouth dentures. If you are missing all of your teeth on either side of your jaw, or your entire mouth, consider full dentures.
Partial Dentures – Partial dentures are designed for partial tooth loss. Partial dentures are a good alternative if you are missing two or more teeth in a row.
Benefits of Dentures
Teeth that Work! – Missing teeth make it hard to chew and get the nutrition from food that you need. Dentures allow you to chew your food effectively.
Improve the Appearance of Your Smile – Missing teeth are often embarrassing and cause you to feel self-conscious. Dentures give you back your smile.
Look Younger – When you lose teeth, you may also experience bone loss, which ages you. Dentures can return structure to your jaw and help you look younger.
Implant-Supported Dentures
Most dentures are removable, however, you do have the option to secure your dentures with implants. For full dentures, we place 2 or more strategic dental implants to hold the denture in place. We strongly recommend implants to support lower dentures so you can resume a normal diet. Ponderosa Dental has multiple affordable options to get you back to eating the food you love.
How Do I Get Dentures?
The first step is to come in for a consultation! We may need to take digital images of your mouth to get an accurate diagnosis. Once you decide on dentures, the images go to a laboratory where a ceramist will make your dentures. When the ceramist completes the dentures, we check for fit and adjust as needed, and then you are ready to go!
Does Insurance Cover Dentures?
Insurance coverage varies from policy to policy. We are happy to check out your individual policy and talk with you about what it does and does not cover.
Improve Your Smile!
At Ponderosa Dental Group, we take your dental health seriously. A full set of functioning teeth can both improve your appearance and oral health. Don't wait! Call for your appointment today!